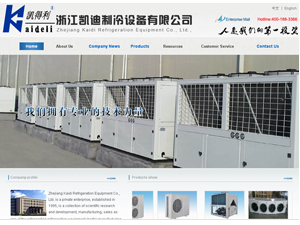 Established in 1995, Zhejiang Kaidi AIR CONDITONING & REFRIGERATION CO., LTD. is a comprehensive enterprise with a perfect fusion of research, design, produce and sales ability.
Supported with profession technology engineers, more than 200 skilled workers, advanced product line, inspection lab and equipment, we are able to develop and produce various refrigeration equipments.
After establishment, we successively obtained ISO 9001-2000 quality system certification, production license of compressor condensing unit and pressure vessel-D1, D2 series. We follow customers to be our guider, commit ourselves to set up a right modern enterprise system and full-scale efficient quality management system:

Our main products contain:
·Fin type heat exchanger: fin type evaporator, fin type condenser, etc.
·Shell and tube heat exchanger: shell & tube evaporator, shell & tube condenser, evaporating condenser;
·Compressor condensing unit series: hermetic compressor condensing unit, semi-hermetic compressor condensing unit, screw compressor condensing unit, 2-stage compressor condensing unit, mult-compressor condensing unit, etc.
·Air conditioning products: water cooled chiller, air cooled chiller, air conditioner for workshop, industry water chiller, compressor condensing unit for milk can, ice machine, etc.
·Refrigeration accessories: evaporating coil, condensing coil, liquid receiver etc.

After more than 10 years development, "KAIDELI" brand refrigeration equipment has been full spread in China, and exported to Russia, Spain, Japan and some other countries and area. With support of customers and friends, KAIDI Company focused a healthy impression in customer's mind here and abroad.

Cooperate based on multi-benefit principle, let's develop side by side.

Contact Us:
Tel: 86-575-34220871 86-13758531028