LATEST NEWS
Shanghai Meluck Refrigeration Equipment Co., Ltd
2014-04-18 03:37:40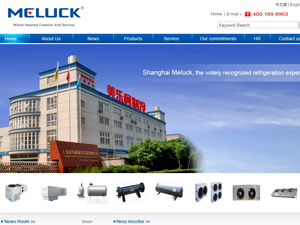 ---
Shanghai Meluck Group Company is an advanced enterprise specializing in R&D, manufacturing, marketing, construction contracting, post sale service of refrigeration and relevant equipments. It has grown very fast, now become a company group, features top R&D capability, rich experience, since it was established in 1993. With its headquarter, R&D center, and Marketing center in Nanxiang Shanghai, there are mainly 3 companies under the group company: Shanghai Meluck Refrigeration Equipment Co. Ltd., Anhui Meluck Air Conditon Equipment Company Ltd., and Zhejiang Bingfeng Air Condition Equipment Company Ltd.
Keeping a business philosophy of "Achieve development with innovation, expand market with service", Shanghai Meluck Group has set over 60 branches and agencies over China, make a complete sales network covering all cities of the country. Now Meluck company dedicates itself in providing better quality, more energy saving refrigeration, tries to make more contribution to the global energy saving and consumption decrease object, it has sold its products of over 10 series to all parts of the world as Mid east, Europe, Australia, South east Asia, Africa etc.
It has registered for ISO9001 quality system certification, got government license for export and import. Its products have got certificates of CE, SGS, and CQC etc. It has become the member of China Refrigeration Institute, The Association of the Quality testing and measuring, The Association of Intellectual Property Protection of China, and The Association of Enterprise Culture of Zhejiang Province. It has got the License for Special Equipment Manufacturing of P.R.C, and the License for The National Industrial Product Manufacturing of China.
Vision: To be the most respected brand of the refrigeration brand in the world.
Mission: To be the global leading supplier of products and service for refrigeration Units, heat transfer, and high pressure vessels.

Website:http://www.sh-meluck.com/


Shanghai Meluck Refrigeration Equipment Co., Ltd

Address: No.1111, Xiangjiang Road, Nanxiang, Jiading District, Shanghai
Tel: 86-21-39199148
Fax: 86-21-39199150
E-mail:
yf@chinabingfeng.com

Anhui Meluck Refrigeration & Air Conditioning Equipment Co., Ltd
Address: Fenggong Road and Anguo West Road Intersection, Xuanzhou economic development zone, Xuancheng City, Anhui Province, China
Tel: 86-563-2527768
Fax: 86-563-2527758
E-mail:
zdw@chinabingfeng.com

Zhejiang Bingfeng Refrigeration Equipment Co., Ltd
Address: science technology industrial park, Kanmen Town, Yuhuan County, Zhejiang Province, China
Tel: 86-576-8990 6678
Fax: 86-576-8990 6679
E-mail:
zdw@chinabingfeng.com
MOST POPULAR