LATEST NEWS
Cambodia:Growing into the mushroom market
2014-07-16 13:54:42
---
The early days were tough going for Kim Puthkiri and his mushrooms.
In 2010, Puthkiri inherited a 5,000-square-metre mushroom farm on the outskirts of Phnom Penh from his brother, who had been trained in South Korea in the art of raising the broad-topped oyster variety, a popular Chinese soup ingredient.
New to mushroom farming, Puthkiri wanted to diversify his produce, and raise the more dense straw mushroom, a bulbous fungus with greater appeal in Cambodian cuisine.
"We successfully grew oyster mushrooms, but Cambodian people do not like to eat oyster mushrooms, they prefer straw mushrooms. So we started to grow straw mushrooms when we did not even have the technique," he said.
An attempt to recruit an agricultural professional claiming to be a straw mushroom expert failed to kick start his new venture. In just over a year Puthkiri had acquired 10 mushroom houses, mounting debts, but still no straw mushrooms.
"More than $40,000 was spent building mushroom houses. Raw materials were gone, the staff was hopeless," he explained.
"It came to me that if I want to be a success in this business, I will have to be an expert myself. I talked to my wife, and then sent her to study about mushrooms in Thailand."
And the training was effective. While Puthkiri looks after marketing and sales, his wife Vireak Daliss, provides the technical advice, and three years on, they have built up two oyster mushroom growing houses and 17 straw mushroom growing houses, that combined, produce more than 3,000 kilograms of fungus each month.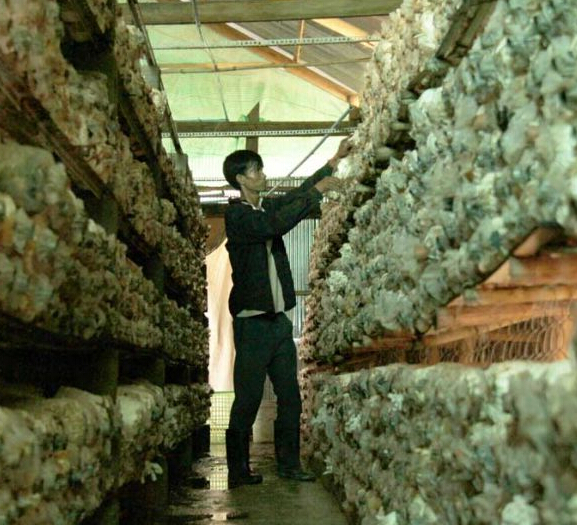 Source: From The Phnom Penh Pos

MOST POPULAR
Korea: Hericium erinaceus is becoming a popular exotic food

2015-07-09 16:58:47 / Read more